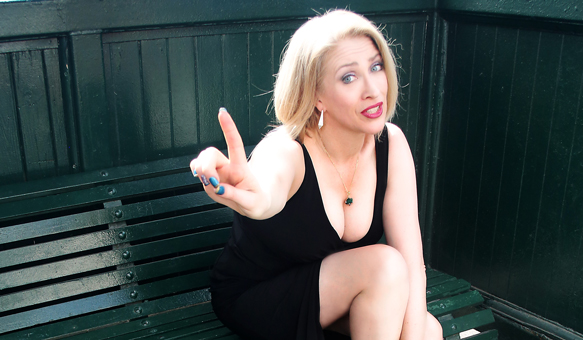 "Ugh, he was a nightmare, but do you have to be single?"
love from mum.
Musical theatre's Ziggy Clements loathes love songs. Best known as the time-poor, shopping crazed lawyer, Brooke, in two Australian tours of Motherhood the Musical, Clements has a resume dating from her start in pro musicals while still at high school, to national tours of Les Miserables & Mamma Mia!. But her dating resume, she laments, is not quite so flash.
In her comedy cabaret, To Sing & Dance of Love While Shooting Yourself in the Foot, the audience are invited in for a slightly sneaky peek at those awkward & cringeworthy dating moments in Ziggy's quest to find love in a life lived out-loud and on-stage.
Using her own brand of self-deprecating humour to meet this challenge one "definitely-not-a-love-song" at a time, this girls night out experience is one where Ziggy's decision to publicly celebrate her stumbling, blundering and floundering dating life could mean shooting herself in the foot at any chance of romance to come…
Direction is by Green Room award winner, Graham Pages and the show is musically directed by Rainer Pollard of cult cabaret Impromptunes fame.
"Ziggy is very funny" – Stage Whispers
"Ziggy Clements was wonderful" – Web Wombat
"…exuding warmth & energy…" – Theatre Guide
To Sing & Dance of Love While Shooting Yourself in the Foot
Dates: 20th-25th of October
Time: 8pm (Tues, Wed and Sun), 9pm (Thurs, Fri & Sat)
Cost: $25-38
Venue: The Butterfly Club, 5 Carson Place, Melbourne
Tickets: thebutterflyclub.com
"Ugh, he was a nightmare, but do you have to be single?" love from mum.   Musical theatre's Ziggy Clements... https://theaustraliatimes.com/?p=33727