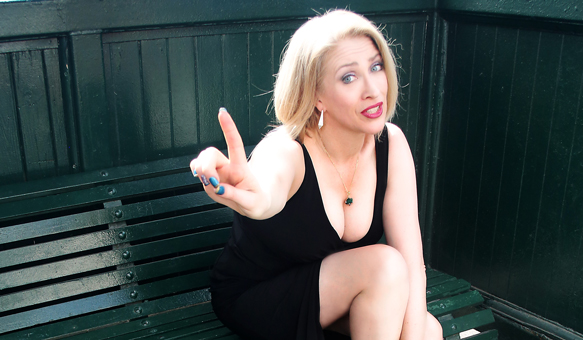 Words: Kelly Sargent
Allelujah! Ladies, I've found her!
I've found the woman who has taken to the stage to remind us of simple truths; love is hard, men are desirable (but complicated), and vodka does help everything.
Ziggy Clement's To Sing & Dance of Love While Shooting Yourself in the Foot, is a celebration of all those awkward, hilarious moments that occur when you're searching for love, topped with enticing cabaret, and my what a voice! That. Voice.
Anybody with a hint of musical interest will enjoy Ziggy's show; even if the heavily female-directed content is not your taste, do yourself a favour and listen to a unique stellar voice shake your being; it's truly an experience. Oh, and take note on the contents, lads, this a crash course on what not to do, and it should help us all.
Ziggy contemplates all the tough questions; how much is too much to give of yourself in a relationship? Why do couples get a registry and millions of gifts unattainable to (the surely needier) singles? Right ladies? Amen.
While her singing is incredible, Ziggy's gorgeous voice is enjoyable to listen along as she chatters away reminiscing on all her socially awkward (but not uncommon) encounters.
Should I be able to make Ziggy miniature and place her on my shoulder to sing sweet nothings into my ear, I would. I'll settle for life size Ziggy and a night out on the town, thanks.  Ziggy's that great value and slightly messy-at-life-friend or part of ourselves we all have; no matter your adventures, she's there the next day picking your sorry arse up or bringing wine to continue the party.
Instantly likable and enjoyable; Ziggy commands the stage, and her persona is just so damn endearing and sexy. Ziggy is all things sugar and spice telling the tales of the not so nice; however, she's far from crude (that is all too common), she's classy and witty. Win win.
To Sing & Dance of Love While Shooting Yourself in the Foot, will likely hit a couple of (good) nerves and have you laughing every other moment; you'll love her, or at least that soulful voice. My.
That. Voice.
To Sing & Dance of Love While Shooting Yourself in the Foot
Dates: 20th-25th of October
Time: 8pm (Tues, Wed and Sun), 9pm (Thurs, Fri & Sat)
Cost: $25-38
Venue: The Butterfly Club, 5 Carson Place, Melbourne
Tickets: thebutterflyclub.com
Words: Kelly Sargent   Allelujah! Ladies, I've found her! I've found the woman who has taken to the stage to... https://theaustraliatimes.com/?p=33806