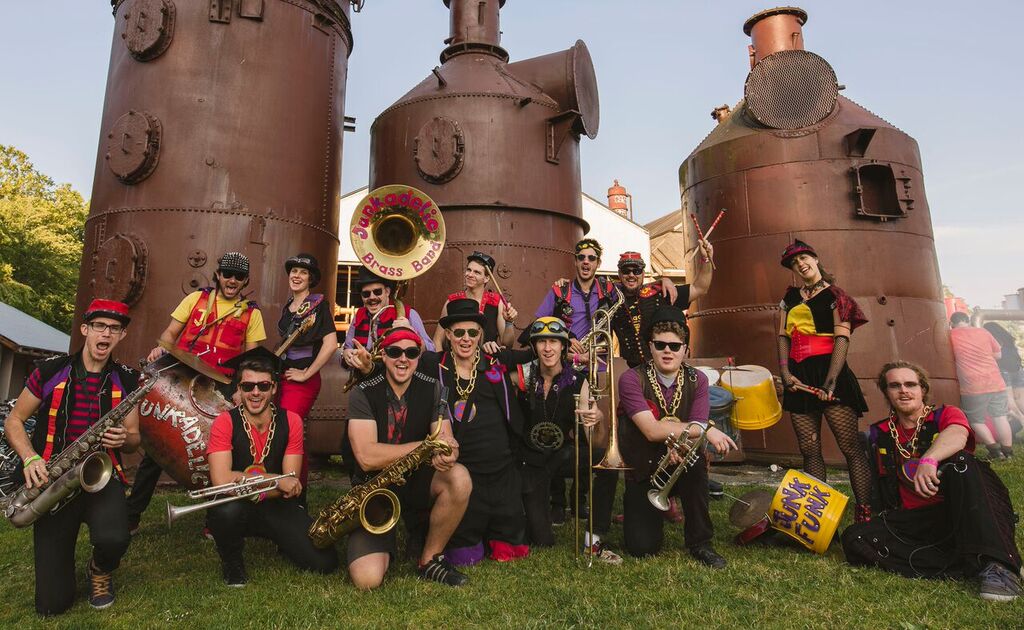 Review by Brandon Taylor
Imagine a stage crowded with 11 to 15 horns, saxophones, singers and percussionists. Now imagine them belting out original funk music at top volume – while dancing wildly and using 'junk' for instruments and clothing wherever possible. That's Junkadelic, the Perth-based musical collective that's been taking the DIY movement to WA's music scene since 2002. One could say Fringe is the perfect home for such a group!
Fittingly enough, Junkadelic has gone straight to its New Orleans roots for its Fringe show. Voodoo You Think You Are is a rowdy, hour-long exploration of voodoo (its origins, spirits and stories) through original funk/calypso music. Each song is dedicated to a legendary voodoo spirit – you'll learn about them all during edu-taining introductions to each number. But the legends, wild as they may be, are best told through the music that follows.
The battalion of players is bursting with all the brass bravado, wailing saxophones, and honky tuba bass lines of a full on Mardis Gras parade. Oh, don't forget the funky drum-line beats (from no fewer than four percussionists) beaten out on buckets, water jugs, lampshades, frying pans and other foreign objects. Could you ask for more Fringe-ness? Yes you could! Dancers in dia de los muertos face makeup and flowingly scant costumes do indeed emerge from backstage and perform synchronised moves to over half of the songs.
This show is custom-built to be silly and wild. If you're looking for a slick and super professional music experience, this may not be your show. The playing is certainly good, but this is a collective – it's all in fun. That being said, they have been playing since 2002 and have a very solid performance and some very cool original music to show for it. So, if you're looking for a high-spirited, hip-shaking, hand-clapping street party of a band (and don't mind a crowd – the Ellington gets cosy for this one) come down and shake your carefree Voodoo doll of a self to Junkadelic's funky jams.
When: 3 – 4 February 2016 (8:30pm)
Where: The Ellington Jazz Club, Northbridge, PERTH
Tickets: $15 – $20
Info: Duration 60 minutes; suitable 18+
Link: https://fringeworld.com.au/program/event/048998be-5f17-45ee-a35d-8d3afaa3fcc6/
Review by Brandon Taylor Imagine a stage crowded with 11 to 15 horns, saxophones, singers and percussionists. Now imagine them... https://theaustraliatimes.com/?p=35903