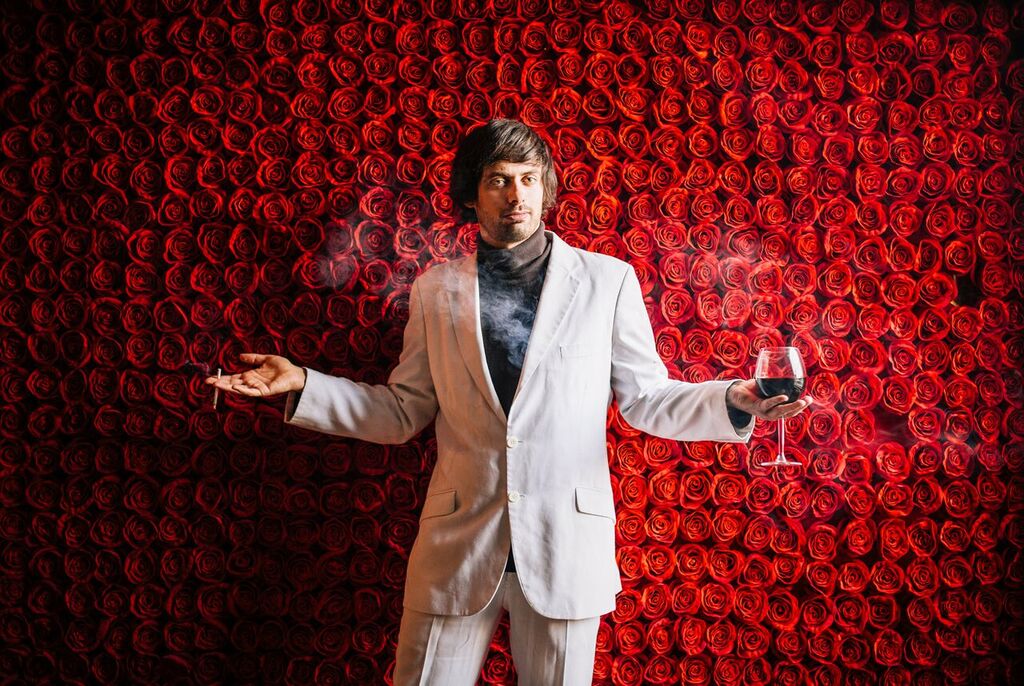 Review by Laura Money
Marcel Lucont's Cabaret Fantastique is the most unique evening of cabaret you will experience during FRINGEWORLD. Lucont brings his laconic style of classic poetry, comedy, and philosophy as the host of a traditional cabaret. He hosts a different line-up each evening, and has been doing so all around the world. For FRINGEWORLD, Lucont is joined by a wonderful mixture of Perth Fringe royalty and he brings them all together with nonchalant ease.
Sitting in the smoky, heady atmosphere of the WA Speigeltent, the audience are treated to the marvelous Lucont slinking onto the stage. He introduces the Cabaret Fantastique with a charming and witty song, reminiscent of the European cabaret scene. Lacont is a comedic genius. He has developed his character to perfection – laconic, sophisticated, and silkily sexy, he jokes "if you expect the level of excitement to rise – expect away."
Lucont's arrogance is charming. He exemplifies the snooty Frenchman type – right down to the evening jacket, turtleneck, and ubiqtuous glass of red wine. The character is impeccably delivered. Lucont loves to flirt with women in the crowd, read his poetry, philosophise, talk about himself, and of course – drink copious amounts of wine. Each act is introduced with obvious love – yet Lucont is sure to let you know that he is the superior performer!
The evening I was there featured the hilarious 'psychic' Ian D Montford – a truly brilliant parody of those psychic tv charlatans. He is so quick-witted and clever and has his parody down-pat. Juan Vesuvius brought a literal spin on classic DJing – he cleverly fuses calypso music with pop classics to create some hilarious results. The absolute highlight, however is his playing of all the members of a calypso band – about 12 people! The boys from Lords of Strut brought their original and quirky Irish humour to the stage in an awkwardly clever sketch that combines acrobatics, comedy, and a little bit of stripping. Next we were treated to the mime-tastic delights of Tessa Waters whose delightful invisible hoola hoop routine was enough to crack up the whole crowd. Finally, we were treated to the singing stylings of Elena Gabrielle who gave us a sample from her show Dirrty. Singing about shaving unruly pubic hair and including the audience, she certainly wowed the crowd.
In between all of these acts, Lucont provides commentary, poetry, and even some audience participation. He nonchalantly slams everyone – ensuring the audience knows that Lucont is the true King of Fringe.
When: 22 January – 20 February 2016 (11:30pm)
Where: WA Speigeltent, Big Top, and De Parel Speigeltent
Tickets: $21 – $25
Info: Duration 45 mins – 90 mins, Suitability 15+
Links:
Fringeworld – http://www.fringeworld.com.au/program/event/9e943314-f2f5-46fd-8e1c-104b2e6ff08a/
Official website: http://www.marcellucont.com/
Review by Laura Money Marcel Lucont's Cabaret Fantastique is the most unique evening of cabaret you will experience during... https://theaustraliatimes.com/?p=36022